I'm very excited so let's just jump right in.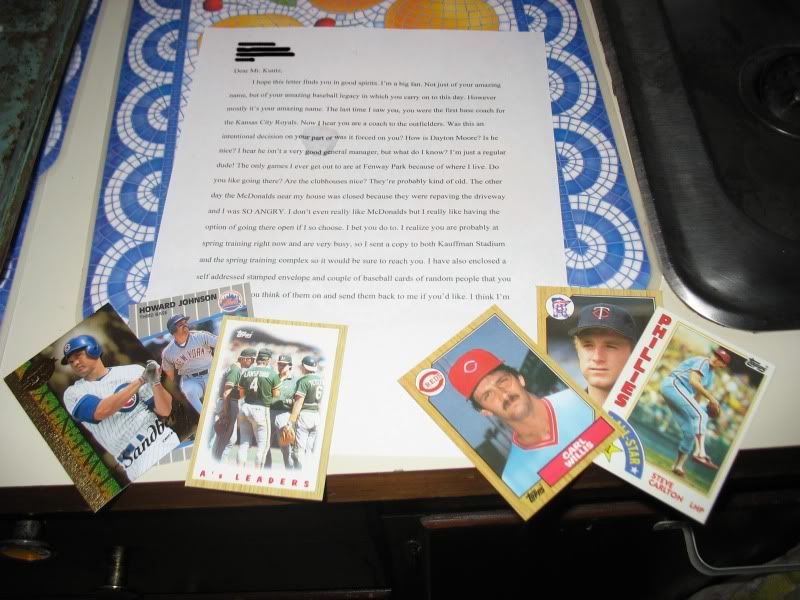 for those who can't read the letter this is what it says:
Dear Mr. Kuntz,
I hope this letter finds you in good spirits. I'm a big fan. Not just of your amazing name, but of your amazing baseball legacy in which you carry on to this day. However mostly it's your amazing name. The last time I saw you, you were the first base coach for the Kansas City Royals. Now I hear you are a coach to the outfielders. Was this an intentional decision on your part or was it forced on you? How is Dayton Moore? Is he nice? I hear he isn't a very good general manager, but what do I know? I'm just a regular dude! The only games I ever get out to are at Fenway Park because of where I live. Do you like going there? Are the clubhouses nice? They're probably kind of old. The other day the McDonalds near my house was closed because they were repaving the driveway and I was SO ANGRY. I don't even really like McDonalds but I really like having the option of going there open if I so choose. I bet you do to. I realize you are probably at spring training right now and are very busy, so I sent a copy to both Kauffman Stadium and the spring training complex so it would be sure to reach you. I have also enclosed a self addressed stamped envelope and couple of baseball cards of random people that you can write what you think of them on and send them back to me if you'd like. I think I'm allergic to my cat.
Thanks for listening. I need a friend.